Parent Info – Blink 20
As a parent, you are faced with a lot of changes and challenges as your child moves to a more virtual learning experience. With all that you are juggling, one thing that needs to remain a priority is your child's vision.
Even with in-person learning, your child's required screen time has increased significantly. The digital learning environment, whether at home or at school, requires frequent and often extended exposure to digital devices. This can lead to Digital Eye Strain and can even cause or worsen myopia (nearsightedness) in children.
The good news is that there are several simple strategies that you can put in place to help address the problem and prevent discomfort and possibly even protect your child's vision. Conexus has developed a comprehensive program (Conexus Blink 20) that is designed to limit the impact of Digital Eye Strain for your child.
This program is provided free of charge and is funded by our donors.
The information has been shared with Virginia's school divisions and we have encouraged schools and teachers to incorporate the four simple Conexus Blink 20 concepts to help alleviate Digital Eye Strain for their students.
We encourage you to put the steps in place at home and encourage your child to follow the recommendations.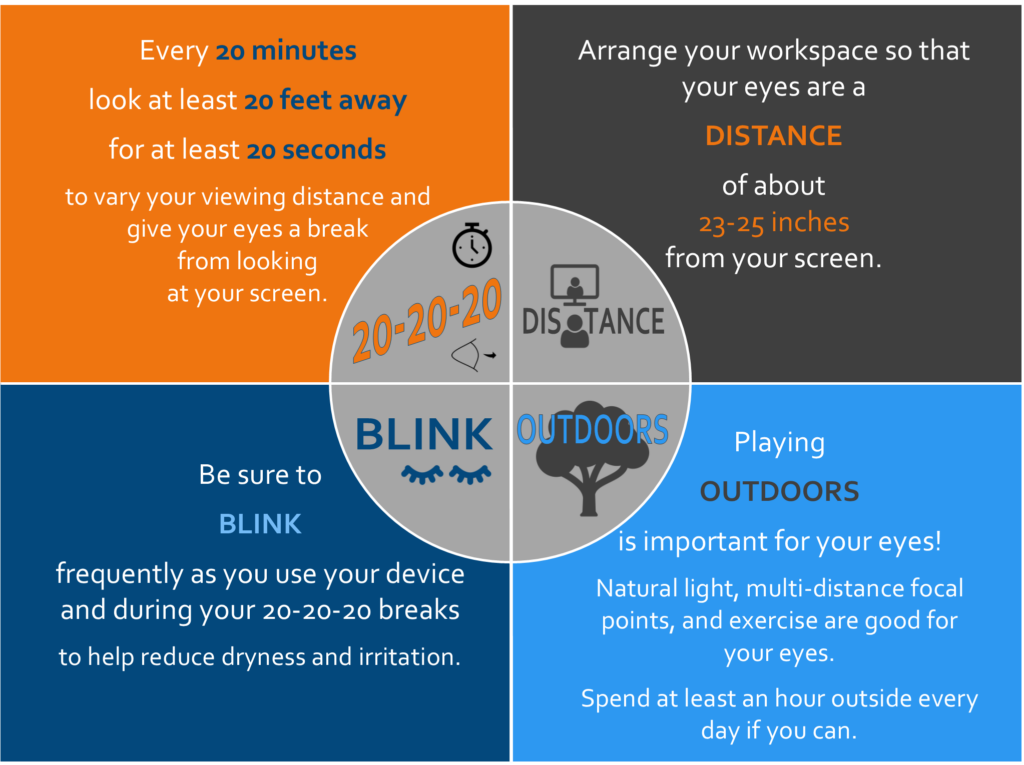 Download the above infographic as a PDF HERE.
We hope you will print it out and post it in your home so you will remember the basics of fighting Digital Eye Strain.
Encourage your child to:
– Take visual breaks

– Blink often and completely

– Stay about two feet from their computer screen

– Play outside whenever possible
More complete information is available in the full report.
Remember to limit screen time as much as possible by eliminating other recreational activities when computer work is necessary. Also, these tips are intended to help lessen eye strain and even possibly prevent the development or worsening of myopia (nearsightedness). It is important to regularly evaluate vision and eye health through comprehensive vision programs offered through school and regular eye exams from eye care professionals.
During and after periods of focused activity are good times to find out if your child:
– Has itchy or uncomfortable eyes

– Has blurred or double vision; print may appear fuzzy or go in and out of focus

– Has dizziness, headaches, or nausea, especially after close-up work

– Has increased sensitivity to light
Ask your child about the symptoms and watch for:
– Red, inflamed, or watery eyes

– Rubbing the eyes or squinting

– Closing or covering one eye

– Tilting or thrusting of the head or holding objects or school materials in an unusual way
Conexus recommends regular eye exams for adults and children, as recommended by your selected eyecare professional. If your child has any of the indicators listed above, it is especially important to take him or her to an eye doctor. S/he may have an uncorrected vision problem or may need additional help reducing eye strain caused by increased computer usage.