Teacher Info – Blink 20
As a teacher, you are juggling a lot right now as you work to provide the very best for your students. We also know you care deeply about your students, so we have developed some tools and information just for you – so you can help your students reduce Digital Eye Strain as they spend more time on laptops and other screens.
While digital eye strain has been an issue for a while, it is quickly becoming a significant health and education crisis with students and teachers! Not only does Digital Eye Strain cause discomfort and pain, it can lead to myopia (nearsightedness) which is also on the rise.
The good news is that there are several simple strategies that you can put in place to help address the problem and prevent discomfort – and possibly even protect your students' vision. Conexus has developed a comprehensive program (Conexus Blink 20) with resources for you to use as you plan and implement your distance learning lessons. We encourage you to share this information with your students' parents as well.
You can download the one-page infographic as a PDF HERE.
If you would like us to send you copies for your students, please contact us. This program is provided free of charge and is funded by our donors.
We encourage you to download the full report and incorporate the four simple Conexus Blink 20 approaches into your virtual classes for your students – and don't forget to use them to protect your own eyes from Digital Eye Strain as well!
Please share this link www.conexusvision.org/blink20/parent-info/ with your students' families and encourage them to use these strategies during and outside of class.
Additional Resources:
Please feel free to incorporate these slides into your distance learning plans to help protect your students' eyes (and your own!)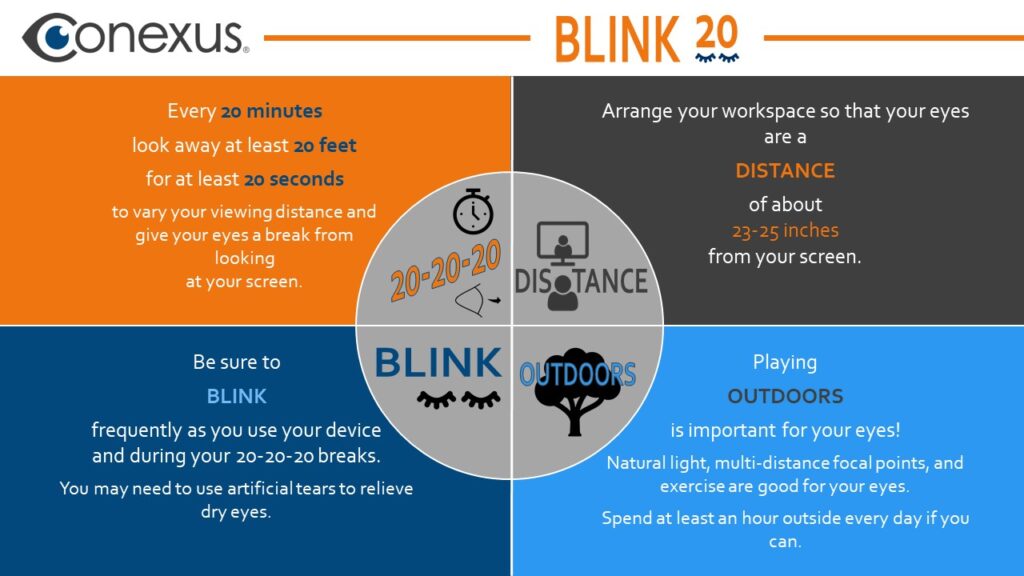 Also, please feel free to use these graphics in your materials to parents and students as frequent reminders that they should be creating these habits to protect their eyes from Digital Eye Strain.