Job Opportunities
Are you looking to be a part of a team that makes a difference every day?  80% of what a child learns in a typical classroom is through vision and nearly one in three children in some of our most economically and academically challenged school divisions isn't seeing as well as they should.  Conexus works every day to help remove that barrier to success and we are looking to hire for the following positions!
To apply to any of these positions, please email your resume and cover letter (cover letter optional) to [email protected].
Program Techs Needed!
Program Technicians to provide our technology-based vision screenings in school divisions throughout Virginia. Conexus Program Technicians are considered the "face of the organization". Primary responsibilities include the full service delivery of our comprehensive technology-based vision programs to our partners and requires regular interaction with school administrators and staff, children, parents, organizational leadership, community volunteers, public officials, and the general public. Program delivery involves a wide range of activities including: program marketing; scheduling; delivery; processing; and follow-up.
The following outlines basic daily duties of a program technician. Training is provided.
1. Participate in the scheduling and coordination of vision programming
2. Prepare paperwork and equipment for vision programming
3. Conduct technology-based vision screenings and/or participate in mobile vision programs
4. Participate in processing results to be returned to our partner schools
5. Manage follow up resources and tracking of follow up reporting
6. Market/expand the program to new partners and/or new areas
For more information, click HERE.
Opticians Needed!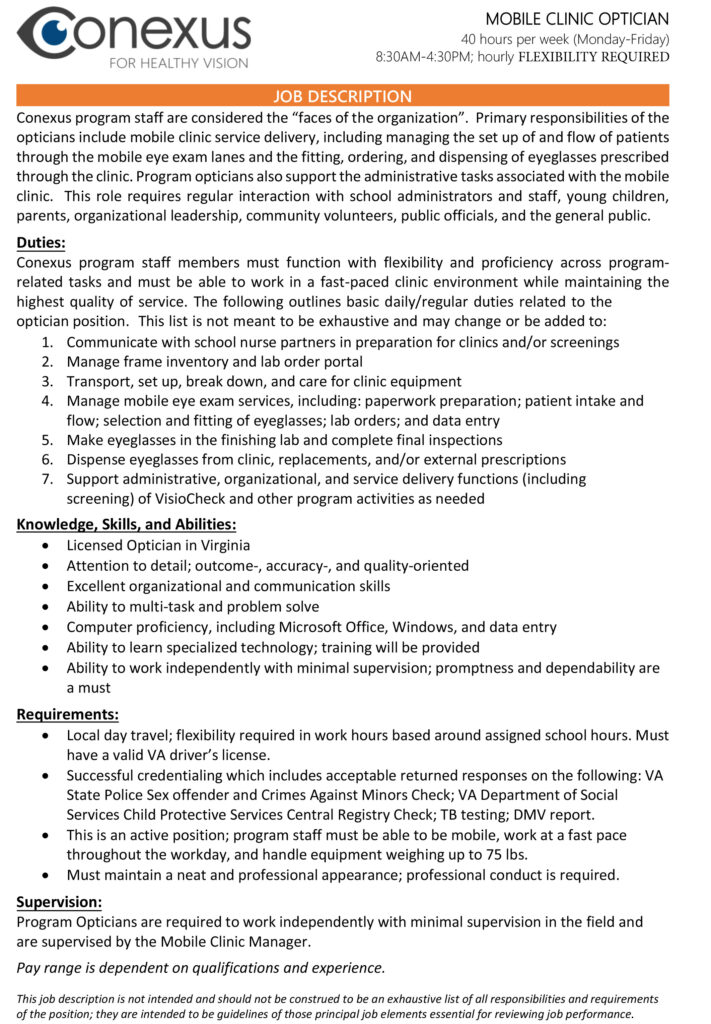 Mobile Clinic Doctors Needed!